Chinese government is continuing to increase censorship and control over Internet, and now it got support from Apple.
A new regulation requires VPN providers to obtain a special government license and store all customers' data within the mainland, in an aim of providing "clean and standardized" access to the Internet. Those who disobey, will be blocked by ISPs and tech companies till 2018.
In the response to the Chinese new regulations, Apple announced on July 29 that all VPN apps will be removed from the China's App Store.
Hello,
We are writing to notify you that your application will be removed from the China App Store because it includes content that is illegal in China, which is not in compliance with the App Store Review Guidelines…
Best regards,
App Store Review
All major VPN providers have been cleaned up from the App Store already. Unfortunately, Seed4.Me VPN also fell under this suppression.
But you can still install our app from the App Store, simply by creating an Apple ID with a different country/region.
How to install VPN app from App Store in China?
Step 1. Open iTunes, choose Apps (from the menu in the upper-left corner), then go to the Store:

Step 2. Scroll down and click on the China's flag (in the lower-right corner of the window), then select the United States of America:

Step 3. Search for "Seed4Me" (in the upper-right of the window)

Step 4. Click Get button beneath Seed4.Me VPN icon. When you're asked to sign in with an Apple ID, click Create Apple ID: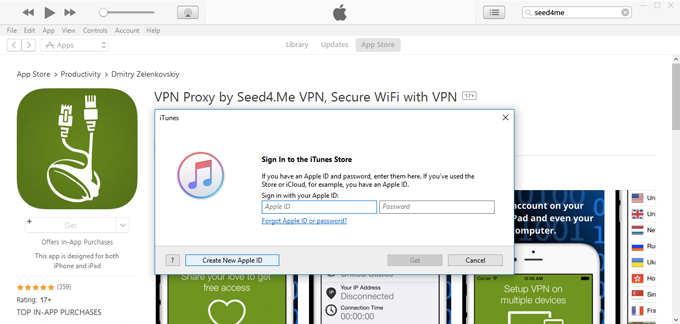 Step 5. Follow the onscreen instructions. When you're asked for payment information, choose None as the payment type:

After you enter your information, you're asked to verify your Apple ID by email. You must verify your Apple ID before you can install Seed4.Me VPN app.
Done!
Have questions? We are here to help you: support@seed4.me