Recently we became a proud Internet Defense League member. What does it mean?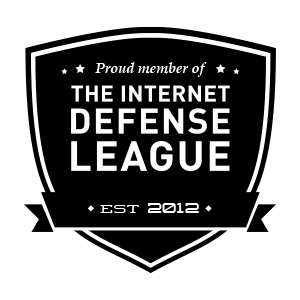 It means that we share the same thoughts as the rest of IDL members. In particular, we believe in freedom of speech and the right to be anonymous in the Internet. Now days there are companies who's goal is to privatize the information. They are lobbying laws and pushing legal grounds to support their intentions. SOPA, DMCA, CISPA and other acts where especially developed to control Internet Service Providers and website owners.
IDL represents the opposite side and tries to defend our interests, mainly by helping people to be aware and react fast, sing petitions against upcoming legal threats to our privacy. So we joined The Internet Defense League in order to spread the word and help people to know what's happening right now.
Follow us in Twitter or Facebook to show your support or become a member of IDL now. Look in the future and protect your privacy.