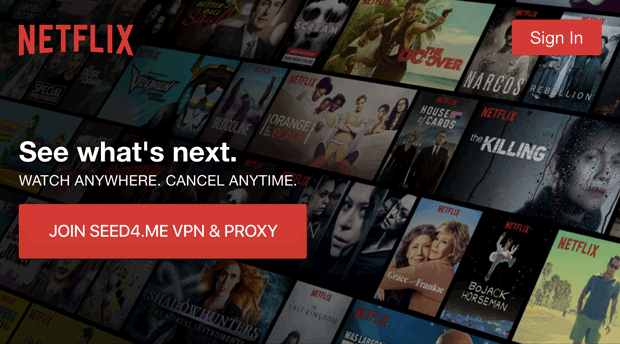 If you want to have great holidays, you already purchased Netflix subscription.
But what to do if you are going to celebrate abroad? Or you just want to access more movies and TV shows, which are only available on American Netflix?
Fear not, we got you covered! With Seed4.Me VPN you can can watch US Netflix abroad!
Though, let's focus on more painful question: WHAT TO WATCH?
The choosing part is the most time-consuming and it is also difficult to get one that fits your mood, or something you and your friend/spouse can agree on.
Let us help you here as well, we have prepared a list of great films currently available on US Netflix, so scroll down and pick one by one. Enjoy!
---
The Place Beyond the Pines

Director: Derek Cianfrance
Writers: Derek Cianfrance, Ben Coccio, and Darius Marder
Cast: Ryan Gosling, Bradley Cooper, Eva Mendes, Ben Mendelsohn, Ray Liotta, Emory Cohen, and Dane Dehaan
For his follow-up film, Blue Valentine filmmaker Derek Cianfrance went with a highly ambitious crime saga told in three parts. The Place Beyond the Pines has a triptych structure, beginning with a chapter in which Ryan Gosling plays a bank robber with a baby son, continuing with a chapter following a cop played by Bradley Cooper, and concluding with a chapter revolving around the sons of these two men. The result is something epic, thrilling, and highly emotional, with a narrative unlike any you've seen before. – Adam Chitwood
Magic Mike

Director: Steven Soderbergh
Writer: Reid Carolin
Cast: Channing Tatum, Alex Pettyfer, Cody Horn, Matt Bomer, Olivia Munn, Joe Manganiello, and Matthew McConaughey
While the prospect of a male stripper movie based on the real life story of Channing Tatum sounds like a recipe for disaster, in the hands of a master filmmaker like Steven Soderbergh, it's a work of art. Magic Mike is immensely entertaining offering up some truly dazzling set pieces, but it's also incredibly funny and genuinely poignant. While Soderbergh certainly has an eye on giving folks a good time, at heart Magic Mike is a film about chasing the American Dream. It's surprisingly dark in places, and Tatum is actually pretty terrific in the lead role here, offering up some of the complexity that has made him a truly talented actor. And, of course, there's Matthew McConaughey in the first puzzle piece of his McConaissance, giving an Oscar-worthy turn as the charismatic Dallas, owner of the film's central male strip club. Don't let the subject matter fool you: Magic Mike is a true film for cinephiles. – Adam Chitwood
Hercules

Directed by: John Musker, Ron Clements
Written by: John Musker, Ron Clements, Donald McEnery, Bob Shaw, Irene Mecchi
Cast: Tate Donovan, Susan Egan, Danny DeVito, James Woods, Rip Torn, Frank Welker, Bobcat Goldthwait, Amanda Plummer, Paul Shaffer, Wayne Knight, Keith David, and Hal Holbrook
Hercules came at an interesting time for Walt Disney Animation Studios, which was still trying to recapture the same zeitgeist-commanding fame of films like The Lion King and Beauty and the Beast. And while Hercules isn't a home run like those early 90s Disney films, it's a pretty delightful double. The animated retelling of the Hercules story is incredibly funny and colorful as we follow the young Hercules trying to find his place in the world, knowing he was meant for something greater. It's almost something of a Superman remake, but with gods instead of superheroes. The songs are fantastic, and Megara is a refreshingly independent female lead. Who puts the glad in gladiator? – Adam Chitwood
Chicago

Director: Rob Marshall
Writer: Bill Condon
Cast: Renee Zellweger, Catherine Zeta-Jones, Richard Gere, John C. Reilly, Queen Latifah
While La La Land put a grounded spin on the musical format, there's something to be said for the opulence of Chicago. This 2002 film from director Rob Marshallwas the first musical to win Best Picture since 1968's Oliver!, and for good reason. It's a lavish, thrilling, and gorgeous adaptation of the stage musical of the same name, with Marshall and screenwriter Bill Condon finding an ingenious way to stage big musical numbers that don't feel out of place in the film's 1920s Chicago reality. Renee Zellwegger, Catherine Zeta-Jones, and Richard Gere deliver phenomenal performances, the costumes and production design are to die for, and John C. Reilly sings! What more could you ask for? — Adam Chitwood
Long Shot

Director: Jacob LaMendola
The less you know about Jacob LaMendola's 40-minute documentary Long Shotthe better because its twists and turns are absolutely shocking even if its larger point should be burned into viewers memories by now. Overall, the documentary focuses on Juan Catalan, who was accused of a murder he didn't commit and the lengths he had to go to in order to prove his innocence. While our justice system likes to tout that the accused are "innocent until proven guilty," Long Shot shows in its brief runtime that the truth is just the opposite. Despite the flimsy evidence against Catalan, he had to be extraordinarily lucky to prove his innocence and that we have a system that incentivizes detectives and prosecutors simply to close cases rather than find justice. The brilliant thing about Long Shot is that it never has to come right out and say it. The case speaks volumes on its own. – Matt Goldberg
Clouds of Sils Maria

Writer/Director: Olivier Assayas
Cast: Juliette Binoche, Kristen Stewart, Chloe Grace Moretz, Lars Eidinger, Johnny Flynn, Brady Corbet
Olivier Assayas (Carlos, Irma Vep) might be slyly gleeful if you call his Clouds of Sils Maria "pretentious." Like a cloud, Maria lays a thick haze over what we talk about when we talk about movies vs. film. This film stars Juliette Binoche as a respected actress who, now in her 40s, is receiving less juicy roles and has been asked to play the older part in the very adaptation that made her famous (an 18 year-old intern seduces her 40-something female boss; Binoche's Maria Enders came to fame playing the intern, she's about to embark on the older character). Her assistant, played by Kristen Stewart, runs lines with her and they argue about whether or not the older woman is layered and redeemable or pitiful and pathetic.
The dialogue from the play is haughty, stiff and dead on arrival. Off the clock, the dialogue in which these two characters relate to each other as women—and mentor to mentee—is invigorating, instinctive, energetic. It's an absolute joy to watch Binoche and Stewart act against each other, free of the play and what we consider high art. It's natural. Whenever they're sucked into creative work and discussions of what each other values from creative enterprises (Stewart's assistant sees the melodramatic parallels in Hollywood superhero films), that their natural state of personhood gives way to tension. This very film vs. movie discussion creates a tension that erases the fun of movies by putting friction between the two, between art and perceived lesser art. Assayas' Maria, perhaps pretentiously, says all movies have artistic value. Great! That this statement comes from the innate chemistry between Binoche and Stewart, lifts Clouds into some beautiful terrain. — Brian Formo
Sing Street

Director/Writer: John Carney
Cast: Lucy Boynton, Maria Doyle Kennedy, Aidan Gillen, Jack Reynor, and Kelly Thornton
If you're looking for a pure feel-good movie, you can't go wrong with Sing Street. This 80s-set musical/coming-of-age story hails from Once and Begin Againfilmmaker John Carney and follows a young Irish boy who starts a band in order to impress a girl. In writing their original musical, they cover the various trends of the decade—there are songs that sound like Duran Duran and there are songs that sound like The Cure. At heart, it's a story about young love and discovering who you are while not shying away from the harsh realities of real life. The songs are genuinely great, the performances are incredible (especially from newcomer Lucy Boynton), and the ending is a humdinger. I dare you to watch this movie and not smile. – Adam Chitwood
Zootopia

Directors: Byron Howard and Rich Moore
Writers: Jared Bush and Phil Johnston
Cast: Ginnifer Goodwin, Jason Bateman, Jenny Slate, Idris Elba, Nate Torrence, J.K. Simmons, Bonnie Hunt, and Octavia Spencer
Walt Disney Animation Studios found itself lagging behind when Pixar's track record was pristine, but look no further than Zootopia for evidence that the tables have turned. While Pixar is more hit-or-miss nowadays, Disney Animation is on a roll with 2016's Zootopia proving to be a pleasantly surprising hit both commercially and critically. While talking animal stories have been done to death, Disney dared to use the colorful, vibrant, and diverse world of Zootopia to tackle issues of inherent bias and racial prejudice head on, resulting in a viewing experience that's both entertaining and thought-provoking. The movie is funny and gorgeous, with top-notch world building, but it also has something to say, which ensures that it's much more than a lazy cash grab. With any luck, this one's gonna have a lengthy shelf life. – Adam Chitwood
Following

Director: Christopher Nolan
Writer: Christopher Nolan
Cast: Jeremy Theobald, Alex Haw, Lucy Russell
Christopher Nolan's first feature film is still one of his best, and it will make you a little sad that he's unlikely to return to such small-scale storytelling. While the director clearly excels at set pieces and big ideas, Following is a neat little noir that feels like it was plucked out of the 1940s, complete with femme fatale and hapless stooge. The story of a man who randomly follows people only to be chosen by one of his targets for an elaborate scheme, Following is clearly the first step in Nolan's development as a director, but damn what a confident step it is. You have no problem believing this is the work of a director who would go on to tell a story in reverse or use Batman as a parable for the War on Terror. – Matt Goldberg
Moonrise Kingdom

Director: Wes Anderson
Writers: Wes Anderson and Roman Coppola
Cast: Jared Gilman, Kara Hayward, Edward Norton, Bill Murray, Frances McDormand, Bruce Willis, Jason Schwarztman, Bob Balaban, and Tilda Swinton
Wes Anderson's ode to summer lovin' is quite possibly his most romantic film yet, as the filmmaker perfectly encapsulates what it feels like to be young and head-over-heels in love. It's a delightful picture with an undercurrent of sadness running throughout, and it features some of the most stunning production design of Anderson's oeuvre—and that's saying something. Moonrise Kingdom also features the anachronistic casting of Bruce Willis and Edward Norton, who turn out to be absolute perfect fits for Anderson's brand of auteurism. As fall begins, say goodbye to summer with this melancholic treat. – Adam Chitwood
Byzantium

Director: Neil Jordan
Writer: Moira Buffini
Cast: Gemma Arterton, Saoirse Ronan, Sam Riley
Netflix is a great place to enjoy a film that might've flown under your radar and isn't perfect but has a number of amazing moments. That sentence describes Neil Jordan's visually arresting but chillily distant return to the vampire genre (Interview with the Vampire), Byzantium. Told from the viewpoint of a forever young vampire (Saoirse Ronan)—who only preys on those already at death's door—she writes about her vampire mother (Gemma Arterton) as half tragic, half inspiring, because she's a woman who's never been able to evolve beyond the world's oldest profession (selling her body), but who also chose to become a vampiric being when that was reserved solely for men. Jordan's film is eerie, feminist, and a bit meandering. What Jordan excels at with Byzantium is elaborately displaying blood—from decapitations, waterfalls, and bandages—with a can't-look-away voyeurism POV. Blood has never looked so enticing—nor has the vampire's desire to feast and bathe in it—than in this film. – Brian Formo
Tucker and Dale vs. Evil

Director: Eli Craig
Writer: Eli Craig and Morgan Jurgenson
A comedic spin on the "party-going youths meet backwoods sociopaths" subgenre of horror, a la Texas Chainsaw Massacre, Tucker and Dale vs. Evil is a straight up comedy of errors in horror movie clothing. The film follows the titular Tucker (Alan Tudyk) and Dale (Tyler Labine), two country bumpkins best friends renovating their dilapidated remote vacation home where they encounter a group of preppy, wildly biased college kids. When Dale's attempt at friendly conversation is perceived as a threat, it sets off a series of ever-escalating confrontations that are only as hilarious as they are deadly. As far as I'm concerned, every Alan Tudyk performance is a gift, but it's Tyler Labine's soft-hearted Dale who steals the show as he tries to comprehend the fresh hell he somehow wandered into. Thanks to their on-point performances and some gore gags that are equal parts gruesome and guffaw-inducing, Tucker and Dale vs. Evil is one of the most delightful horror comedies in recent memory. – Haleigh Foutch
---
---
Happy viewing!
Want more movies and TV shows? Click HERE for more lists like this one.
Need help? Please, contact Seed4.Me Support team at support@seed4.me