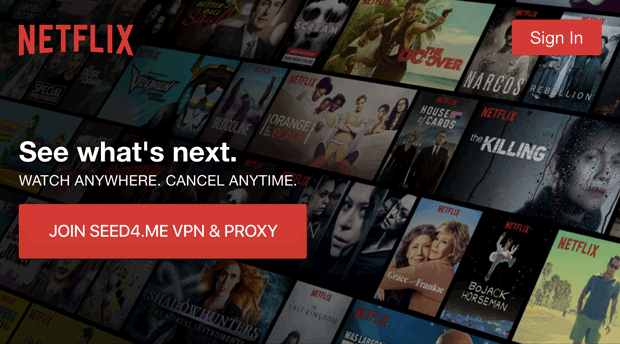 If you want to have great holidays, you already purchased Netflix subscription.
But what to do if you are going to celebrate abroad? Or you just want to access more movies and TV shows, which are only available on American Netflix?
Fear not, we got you covered! With Seed4.Me VPN you can can watch US Netflix abroad!
Though, let's focus on more painful question: WHAT TO WATCH?
The choosing part is the most time-consuming and it is also difficult to get one that fits your mood, or something you and your friend/spouse can agree on.
Let us help you here as well, we have prepared a list of great films currently available on US Netflix, so scroll down and pick one by one. Enjoy!
---
Exit Through the Gift Shop

Director: Banksy
Although it's easy to refer to Exit Through the Gift Shop by the short hand of 'That Banksy Movie', it goes far beyond the famous, anonymous street artist. What begins as a story about the rise of street art eventually morphs into a fascinating documentary about the meaning of art and how that art is produced. Banksyingeniously turns the camera back on subject Thierry Guetta aka "Mister Brainwash" to reveal that while inspiration may be pure, the result of that inspiration can be as crassly commercial as anything else that's mass produced. It's one of the sharpest films ever made about the nature of art, and blisteringly funny as Banksy's work gives way to the controversial Guetta. Even if you're not a fan of Banksy's art, you'll still be fascinated by his Oscar-nominated documentary. – Matt Goldberg
Inglourious Basterds

Director/Writer: Quentin Tarantino
Cast: Brad Pitt, Christoph Waltz, Melanie Laurent, Diane Kruger, Michael Fassbender, B.J. Novak, Daniel Bruhl, Eli Roth
There are no bad Quentin Tarantino movies, only levels of "good" to "great". This pick falls into the latter category, as Inglourious Basterds boasts some of the best filmmaking of Tarantino's career. The World War II-set story revises history and revolves around a special service force of soldiers dropped behind enemy lines who are there to do one thing and one thing only: kill Nazis. Tarantino threads multiple storylines here masterfully, separated into his signature chapters, but it's Christoph Waltz who steals the show as Hans Landa in a star-making (and Oscar-winning) turn. Packed with tense dialogue, hilarious performances, and a very on-brand finale that takes place in a movie theater, Inglourious Basterds is a fun-filled work of art.
Mulan

Directed by: Barry Cook and Tony Bancroft
Written by: Rita Hsiao, Philip LaZebnik, Chris Sanders, Eugenia Bostwick-Singer, and Raymond Singer
Cast: Ming-Na Wen, Eddie Murphy, DB Wong, Miguel Ferrer, Harvey Fierstein
Inarguably the most feminist film of Disney's Second Golden Age, 1998's Mulan is also one that holds up considerably well. The story of a woman posing as a man in order to fight in her father's place is compelling from the get-go, but directors Barry Cook and Tony Bancroft also absolutely nail the dynamic Ancient China aesthetic, bringing a rush of red and chilling landscapes to the big screen in fascinating fashion. Mulan is a story about honor and family, but also about learning to see beyond one's limited perspective. All the men in China have been told that women are not fit to fight or stand in a man's place, but Mulan as Ping shows that when a man doesn't know it's a woman he's fighting alongside, it makes no difference. So while Mulan certainly deals with ancient traditions, it's also a highly relatable and relevant film in terms of theme and character. – Adam Chitwood
The Homesman

Director: Tommy Lee Jones
Writers: Tommy Lee Jones, Kieran Fitzgerald, and Wesley A. Oliver
Cast: Hilary Swank, Tommy Lee Jones, Grace Gummer, Miranda Otto, Sonja Richter, William Fichtner, John Lithgow, Tim Blake Nelson, James Spader, Hailee Steinfeld, and Meryl Streep
If you like Westerns, The Homesman is a must-see. This underrated gem from 2014 flew under the radar and got lost a bit in the awards shuffle during its fall release, but it really is an essential entry in the genre. Swank plays a pious, independent-minded woman who volunteers to transport three women who have been driven mad by pioneer life across the country. She's accompanied in her journey by a low-life drifter, played by Jones, whom she enlists to assist. Somewhat reductively dubbed a "feminist Western", the film does indeed have a female-centric bent, but it's really just a subversive Western on the whole, chronicling the hardships of pioneer life with a hardened, striking point of view. The cast is phenomenal, the story is surprising, and the cinematography and score (by Rodrigo Prieto and Marco Beltrami, respectively) are on point. If you missed The Homesman once, don't miss it again. – Adam Chitwood
How to Survive a Plague

Director: David France
Maybe this isn't necessarily a "feel-good" movie, but director David France's stunning documentary How to Survive a Plague is required viewing. The film chronicles the early days of the AIDS epidemic, as two coalitions—ACT UP and TAG—were formed to shine a light on an issue that our own government was reluctant to admit had major repercussions. It's one of the most moving documentaries you're likely to see, as archival footage captures author/activist Larry Kramer and others in action, juxtaposed with those lucky few who managed to survive the deadly outbreak in present day interviews. Devastating, infuriating, eye-opening—How to Survive a Plague is one of the best documentaries of the 21st century. – Adam Chitwood
It Follows

Director/Writer: David Robert Mitchell
Cast: Maika Monroe, Keir Gilchrist, Daniel Zovatto, Jake Weary, Olivia Luccardi, and Lili Sepe
It Follows is not only one of the best horror movies of the last few years, it's also one of the most handsomely crafted indies in recent memory. Filmmaker David Robert Mitchell conjures the story of an unseen force that "follows", unflinchingly, until it catches up with its target. It can only be passed on through sex, one person giving it to another, and after a fateful one night stand Maika Monroe's character Jay finds herself in its path. Mike Gioulakis' cinematography favors elegantly composed wide angles to unsettling effect, and Disasterpiece turns out an 80s-infused score that evokes nostalgia for that horror-filled decade while standing on its own as a uniquely creepy piece of movie music. Terrifying, gorgeous, and striking, It Follows is damn fine entertainment for any occasion. – Adam Chitwood
Pete's Dragon

Director: David Lowery
Writers: David Lowery and Toby Halbrooks
Cast: Oakes Fegley, Bryce Dallas Howard, Oona Laurence, Robert Redford, Karl Urban, and Wes Bentley
Disney has been knocking it out of the park with its live-action adaptations of classic movies recently, and Pete's Dragon is no different. While it may not be as flashy as The Jungle Book or Beauty and the Beast, what makes Pete's Dragonstand out is compassion. Director David Lowery lovingly crafts this tale of a boy raised by a dragon in the Pacific Northwest who soon becomes the target of the local authorities. There's a strong E.T. vibe here as the movie has a big heart, and Lowery really nails the sense of awe and wonder that coming face to face with a giant furry dragon would inspire. The soundtrack is great, the performances are great—basically, Pete's Dragon is great, and it's very much worth checking out. – Adam Chitwood
E.T. The Extra-Terrestrial

Director: Steven Spielberg
Writer: Melissa Mathison
Cast: Henry Thomas, Dee Wallace, Drew Barrymore, Peter Coyote, C. Thomas Howell, and Robert MacNaughton
It's easy to forget just how good E.T. the Extra-Terrestrial is. Obviously it's one of Spielberg's classics, but there's an inclination to just assume E.T.'s greatness without considering just how incredible this really movie is—it's a downright masterpiece. It's not enough for Spielberg to simply tell a story about an alien. He had done that already with Close Encounters of the Third Kind. No, this is a deeply personal work for the filmmaker, and one that's just as much the story of a family torn apart by divorce as it is the tale of friendship between a lonely boy and a homesick alien. These plot devices go hand-in-hand, one informing the other, and it's a testament to Spielberg's genius that they blend so perfectly together. This is a movie filled with wonder, imagination, and adventure, but it's also a considerably dark film that doesn't shy away from the realities of a broken family. It's that mix of pure movie magic and a grounded emotionality that make this a quintessential Spielberg film. If you need a reminder that Spielberg is one of the best there's ever been, or simply want to watch a masterpiece, give E.T. a spin. And bring Kleenex. – Adam Chitwood
Memento

Director/Writer: Christopher Nolan
Cast: Guy Pearce, Joe Pantoliano, Carrie-Anne Moss
While his debut feature Following is noteworthy, the film that really put Christopher Nolan on the map was his Oscar-nominated second feature Memento. In what would be a hallmark of his filmmaking to come, the film presents a narrative in a unique form, as it's a story told in reverse. Guy Pearce plays a man with no short-term memory, trying to piece together details minute-by-minute that will lead him to the man who murdered his wife. The film is wholly unique and features some dynamite performances (Pearce and Nolan are overdue for a reunion), and despite having made films like The Dark Knight and Inception, it still stands today as one of Nolan's best films. – Adam Chitwood
Spotlight

Director: Tom McCarthy
Writers: Josh Singer & Tom McCarthy
Cast: Michael Keaton, Rachel McAdams, Mark Ruffalo, Brian d'Arcy James, Liev Schreiber, Stanley Tucci, Billy Crudup, and John Slattery
Winner of the Best Picture Oscar for 2015, Spotlight is a tremendous achievement and a magnificent example of the tightrope walk many filmmakers must do when tackling touchy or controversial subject matter. In chronicling the Boston Globe's investigation into systemic sexual abuse in the Catholic church, Spotlight never relishes in putting down the church itself, nor does it shy away from the horrible crimes perpetrated (and facilitated) by those in power. It's an incredibly engaging and compelling story of good people trying to do a good thing, and all the challenges that come with standing up to a massive superpower. Moreover, the ensemble in this thing is one of the best in recent memory. Whether you're a Best Picture completionist or not, Spotlight is well worth your time. – Adam Chitwood
Young Frankenstein

Director: Mel Brooks
Writers: Mel Brooks and Gene Wilder
Cast: Gene Wilder, Teri Garr, Marty Feldman, Peter Boyle, Cloris Leachman, Madeline Kahn
Young Frankenstein is Mel Brooks and Gene Wilder's ode to the classic Universal monster movies, but with this comedic duo's signature spin. Wilder stars Dr. Frederick Frankenstein, a physician who is exhausted by rumors of his famous father's attempts to raise the dead. But when he inherits his family's estate, he discovers there may have been something to those rumors after all. This is a parody that's so lovingly crafted it could almost pass as a genuine monster movie from the 30s—save for, you know, the tap dancing. – Adam Chitwood
The Wolfpack

Director: Crystal Moselle
This utterly fascinating documentary first made waves at the 2015 Sundance Film Festival, and it's certainly one of the most engrossing movies of the year. The film the lives of six brothers who grew up entirely within the confines of a New York City apartment, with movies serving as their only connection to the outside world. As the brothers grew restless in what was essentially a prison (with their father as the warden), they began finding a means of escape by not only watching films over and over again, but literally transcribing the screenplays and then acting out their own versions with costumes and all. The Wolfpack goes inside their NYC apartment as Moselle follows the brothers and their family, delving deeper into their passion for all things film. While the movie falls short when digging into the larger psychological issues at hand when it comes to the boys' father, it does serve as an interesting (and, admittedly, entertaining) case study of sorts about how a human being is shaped when films are presented as "reality". Those who grew up obsessively poring over the world of filmmaking would do well to check this one out. – Adam Chitwood
---
---
Happy viewing!
Want more movies and TV shows? Click HERE for more lists like this one.
Need help? Please, contact Seed4.Me Support team at support@seed4.me