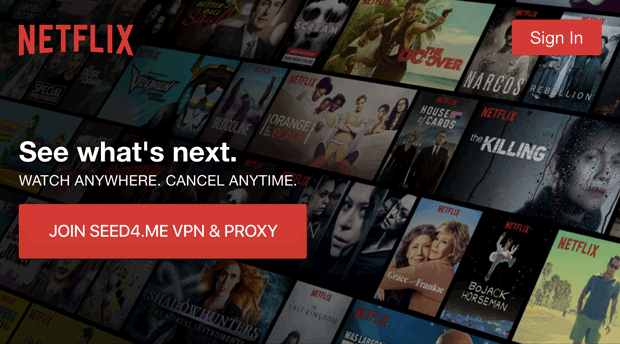 If you want to have great holidays, you already purchased Netflix subscription.
But what to do if you are going to celebrate abroad? Or you just want to access more movies and TV shows, which are only available on American Netflix?
Fear not, we got you covered! With Seed4.Me VPN you can can watch US Netflix abroad!
Though, let's focus on more painful question: WHAT TO WATCH?
The choosing part is the most time-consuming and it is also difficult to get one that fits your mood, or something you and your friend/spouse can agree on.
Let us help you here as well, we have prepared a list of great films currently available on US Netflix, so scroll down and pick one by one. Enjoy!
---
Newtown

Director: Kim A. Snyder
The documentary Newtown is not an easy film to watch, nor should it be, but it is absolutely essential. The film is a tactful, powerful look at how the community of Newtown, Connecticut came together in the aftermath of the largest mass shooting of schoolchildren in American history. It is a deeply personal film, focusing on the parents, brothers, and sisters who were affected by this act of terrorism, and how it has impacted not just them but the community as a whole. The film forces the viewer to confront the consequences of gun violence in an unflinching, almost overwhelmingly emotional manner. It is not preachy and it has no agenda other than showing human truth. If I had my personal druthers, this film would be required viewing for every single American citizen. – Adam Chitwood
Hot Fuzz

Director: Edgar Wright
Writers: Simon Pegg and Edgar Wright
Cast: Simon Pegg, Nick Frost, Jim Broadbent, Timothy Dalton, Paddy Considine, Olivia Colman, Rafe Spall
Filmmaker Edgar Wright certainly turned heads with his work on the beloved UK series Spaced and then broke out in a big way with the "zomromcom" Shaun of the Dead, but how to follow up that success? With a whip-smart twist on the action genre, of course. With Hot Fuzz, Wright captures the world of everyday police work with the same urgency and explosiveness as Michael Bay shoots his big chase sequences, resulting in a hilarious action film all its own that never delves into parody. Simon Pegg and Nick Frost are excellent as the two lead policemen, but the entire ensemble truly shines as the film moves towards a delightful turn at the top of the third act. Kick back, relax, and enjoy the fun. – Adam Chitwood
Girlhood

Director/Writer: Celine Sciamma
Cast: Karidja Touré, Assa Sylla, Lindsay Karamoah
Director Celine Sciamma's (Tomboy) greatest strength is capturing teenagers' natural language, both physical and verbal. Following a clique of teen girls in Paris she magnificently navigates the moments of individuality and group closeness. Each girl has their own idea of self and desire, and each girl hides things from the group, but the boisterous moments when they shed their individuality and band together to sing Rihanna, run through the streets—moments of impulse—are expertly realized by Sciamma in this aching, natural coming of age tale called Girlhood. – Brian Formo
Burn After Reading

Directors/Writers: Joel Coen & Ethan Coen
Cast: George Clooney, Frances McDormand, Richard Jenkins, Brad Pitt, John Malkovich, Tilda Swinton, and J.K. Simmons
How did the Coen Brothers cash in on their clout from winning Best Director and Best Picture with No Country for Old Men? With an absurdist comedy that adds up to a punchline, of course. Burn After Reading is a hilarious romp of sorts played very, very straight, as the Coens pack this espionage story to the brim with idiots, but shoot, edit, and score it as if it's a Michael Clayton-esque thriller. It's a brilliant subversion of expectations, and while some certainly felt slighted by the ending, the way the story abruptly deflates is precisely the point. This is a movie that gets better and better with each watch, and though it may feel slight in the shadow of something as rich and complex as No Country, the range it displays from the Coen Brothers only solidifies them as two of America's greatest directors of all time. – Adam Chitwood
We Need to Talk About Kevin

Director/Writer: Richard Linklater
Cast: Ellar Coltrane, Patricia Arquette, Ethan Hawke, and Lorelai Linklater
Boyhood is a masterpiece, not just because it's a groundbreaking piece of cinema, but because it so fully and completely captures the experience of growing up. It's a film entirely made out of scenes that would be cut out of most family dramas. But it's those little pieces—the conversations about nothing, the screwing around with friends—that we remember the most. Shot over 12 years with the same cast, we watch as Mason grows into the kind of man he's going to be. It happens in fits and spurts, and not every phase sticks as Mason tries out different personalities, but it's a wonder to behold. We also see how aging affects parents, as Arquette turns in a phenomenal Oscar-winning performance as Mason's single mom. This is a long one, so buckle in, but it's a film that demands to be seen. – Adam Chitwood
Tangerine

Director: Sean Baker
Writers: Sean Baker, Chris Bergoch
Cast: Kitana Kiki Rodriguez, Mya Taylor, Karren Karagulian, Mickey O'Hagan, and James Ransone
If you're in the mood for a comedy of a different sort, or maybe just something energetic and colorful, Tangerine is a must-watch. Shot entirely on an iPhone to tremendous results, the film follows a day in the life of two transgender prostitutes on the streets of Los Angeles, as fresh-from-jail Sin-Dee Rella (Kitana Kiki Rodriguez) goes on the hunt to find the woman her boyfriend (James Ransone) has been shacking up with in her absence, all the while her quiet, aspirational friend and co-worker Alexandra (Mya Taylor) tries her best to put out the fires. It's a hilarious, heartfelt, and surprisingly emotional little film that's a breath of fresh air from the cliché-ridden comedies that Hollywood tends to churn out year after year. – Adam Chitwood
Pulp Fiction

Director: Quentin Tarantino
Writers: Quentin Tarantino and Roger Avary
Cast: John Travolta, Samuel L. Jackson, Uma Thurman, Tim Roth, Amanda Plummer, Ving Rhames, Harvey Keitel, Maria de Medeiros, Rosanna Arquette, Bruce Willis
But of course. Pulp Fiction, the film that simultaneously shot Tarantino into "superstardom" status and spawned a slew of imitators that would be churned out of Hollywood for the next decade. To find the extent of Tarantino's influence, look no further than the fact that non-linear storytelling is now not only common, it's become a staple of high-end television. Tarantino found himself in a neck-and-neck battle with Forrest Gump all throughout awards season, and while he lost out on Best Director and Best Picture to Robert Zemeckis' fable, he at least took home Best Original Screenplay. Oscars aside, though, Pulp Fiction is an enduring classic that has solidified it's place in film history as an incredibly influential—and just cool—piece of work. – Adam Chitwood
The Imposter

Director: Bart Layton
A documentary that falls under the "Stranger Than Fiction" category, Bart Layton's The Imposter dives into the true story of Frédéric Bourdin, a deeply twisted individual who, in order to find safe harbor, stole the identity of 16-year-old Nicholas Barclay, a boy that had been missing for three years. The twists and turns of the story are beyond belief, but Layton manages it with a deft hand, weaving in dramatizations that almost feel required because otherwise the story would feel too outlandish. It moves with the pace of a thriller, but it's all wrapped around the too human story of how far we're willing to go to believe something, especially when that "something" could be the return of a lost loved one. – Matt Goldberg
The Awakening

Director: Nick Murphy
Writers: Stephen Volk and Nick Murphy
Cast: Rebecca Hall, Dominic West, Imelda Staunton, and Isaac Hempstead-Wright
Director Nick Murphy delivers a terrific, brooding period horror film in The Awakening, with a great central performance by Rebecca Hall as Florence Cathcart, a paranormal debunker working in 1921 England.  When a boys boarding school claims they're being haunted by a ghost, Cathcart goes to investigate and discovers that this time there might actually be a specter in her midst.  The film features some wonderful twists and turns, and at its best is reminiscent of The Sixth Sense.  This is a film that slipped by too many people when it was released, but you should definitely carve out some time for it. – Matt Goldberg
Blue Is the Warmest Color

Director: Abdellatif Kechiche
Writers: Abdellatif Kechiche and Ghalia Lacroix
Cast: Léa Seydoux and Adèle Exarchopoulos
While Blue Is the Warmest Color got plenty of press for its explicit sex scenes and the subsequent rift between its stars and director, the film remains an epically intimate portrait of love that is among the most engrossing and effective romances of all time. The movie tracks the life of a young woman named Adele (Adèle Exarchopoulos), who falls in love with another girl (Léa Seydoux) while in high school and develops a complex and deeply emotional relationship. This is a deeply felt love drama that, while long, feels wholly complete and personal. Exarchopoulos turns in a brilliant lead performance that deserved much more recognition upon release, and the cinematography is hauntingly beautiful. If you're in the mood for a love story that feels real, human, and epic, go for Blue Is the Warmest Color – Adam Chitwood
The Thin Blue Line

Director: Errol Morris
Writer: Errol Morris
You just finished Making a Murderer and you need your true crime fix. Now what? Your best bet is Errol Morris' seminal 1988 documentary. The story focuses on wrongfully accused drifter Randall Adams, who was railroaded onto death row by false testimony and an overzealous prosecutor. The Thin Blue Line gets its edge not only from interviews with the real killer, David Harris, but also from Morris' brilliant use of dramatization, close-ups, editing, and truly mastering the documentary form into his now unmistakable style. Making a Murderer may send you looking for more true crime, but The Thin Blue Line will also have you hungry to find another Morris film (I recommend The Fog of War and Standard Operating Procedure). – Matt Goldberg
White God

Call it Planet of the Dogs, except it's so much more than that. This stunner, out of Hungaria, splits its action between Lili (Zsofia Psotta), an adolescent starting to feel the first pangs of, er, maturity, and Hagen, her dog, who is kicked out of her home when she's sent to live with her cold, vicious father. Hagen's brutal journey from a street dog to a contender in dog fights to the leader of a canine uprising parallels Lili's first steps into adulthood, flirting with an older boy, going to booze-fueled parties, and acting out in school, and director Kornel Mundruczo gives both storylines a feverish immediacy. The reflective nature of these narratives renders White God at once a unique, emotionally effective action film with an animal-rights bend and a ferocious, sardonic satire of how women are often treated when they become mature and stop listening to adults – particularly men – so often. — Chris Cabin
---
---
Happy viewing!
Want more movies and TV shows? Click HERE for more lists like this one.
Need help? Please, contact Seed4.Me Support team at support@seed4.me