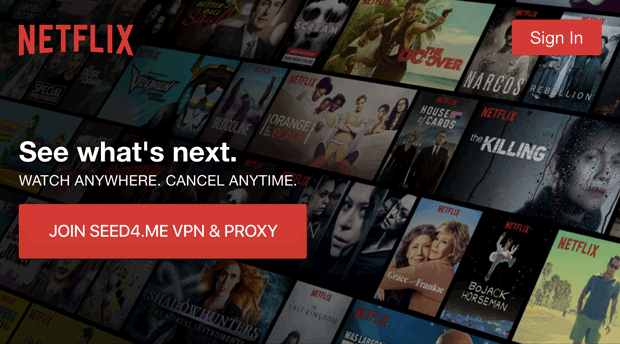 If you want to have a great holidays, you already purchased Netflix subscription.
But what to do if you are going to celebrate abroad? Or you just want to access more movies and TV shows, which are only available on American Netflix?
Fear not, we got you covered! With Seed4.Me VPN you can can watch US Netflix abroad!
Though, let's focus on more painful question: WHAT TO WATCH?
The choosing part is the most time-consuming and it is also difficult to get one that fits your mood, or something you and your friend/spouse can agree on.
Let us help you here as well, we have prepared a list of great films currently available on US Netflix, so scroll down and pick one by one. Enjoy!
---
Life Itself

Director: Steve James
If you're a cinephile, then the Roger Ebert documentary Life Itself is required viewing. Based on Ebert's memoir of the same name, the film began as a chronicle of Ebert's life, career, and contribution to the world of film criticism, but as filming began Ebert faced severe health issues. As a result, director Steve James—who helmed the documentary masterpiece Hoop Dreams—juxtaposes footage focusing on Ebert's life and career with present day-set footage of Ebert in the hospital, as the film critic giant continues to display a passion for films and filmmaking up through his final days. It's a moving, ultimately hopeful documentary that's also incredibly fascinating, as many friends, colleagues and filmmakers—from Martin Scorsese to Ava DuVernay—weigh in on Ebert's contribution to the medium. The film is also candid about Ebert's somewhat prickly personality, with the segment on the animosity between Ebert and Gene Siskel particularly engaging. Again, if you call yourself a fan of movies, this documentary is a must-see. – Adam Chitwood
Amelie

Director: Jean-Pierre Jeunet
Writer: Guillaume Laurant
Cast: Audrey Tautou, Mathieu Kassovitz
Still one of the most visually unique and gorgeously crafted stories on film, the 2001 French film Amelie is sweet, surreal, haunting, and joyous. Propelled by Yann Tiersen's spellbinding score, the whimsical tale focuses on young Amelie Poulin (Tautou), who tries to counterbalance her quiet and lonely life with a keen sense of observation, and an elaborate belief in exacting justice for those around her in order to ensure their happiness. But what of her own?
Eventually, Amelie becomes caught up with a cat-and-mouse game with a potential love interest, the quirky Nino (Kassovitz), which twirls them through Paris as they ascertain whether or not they should ever actually speak to one another. The dazzling movie is a visual feast and an emotional story about romance, shyness, colorful vigilantism, and connecting with the smallest pieces and pleasures of the world around us in ways that add up to something wonderful. — Allison Keene
Sunset Boulevard

Director: Billy Wilder
Writer: Charles Brackett
Cast: William Holden, Gloria Swanson, Erich von Stroheim, Nancy Olson, Fred Clark, Lloyd Gough, Jack Webb
Billy Wildler's 1950 film noir is a classic for a reason. The film tells the story of Joe Gillis, an unsuccessful screenwriter who stumbles upon a seemingly deserted mansion that's inhabited by a long-forgotten silent film star, Norma Desmond. He is subsequently lured into her world of seclusion, where she harbors delusions of returning to Hollywood glory and he incrementally begins to feel more like a prisoner than a guest. This thing is engrossing from the first frame and features a tremendous performance by Gloria Swanson as a tragic casualty of the film world's evolution to sound. If you like movies about people who make movies, or you're simply in the mood for one hell of a story, get to Sunset Boulevard ASAP. – Adam Chitwood
Cartel Land

Director: Matthew Heineman
While you should already want to watch Cartel Land simply because it's nominated for a Best Documentary Feature Oscar this year, the movie is incredibly compelling regardless. The film chronicles the battle against Mexican drug cartels by two vigilante groups on opposite sides of the border: the Arizona Border Recon in the U.S., and a rebel uprising group in the Mexican state of Michoacán. What begins as a seemingly simple story of two groups ultimately fighting for the same thing slowly turns into a deeply unsettling look at the corruption that permeates throughout Mexico, and how the process of rebellion breeds its own kind of corruption and power struggles. The film features some of the most harrowing and intense scenes I've ever seen on film, with the electricity and plot twists of a fictional drug war thriller made all the more disturbing for the fact that this is real life. Fascinating, searing, dark, and deeply unsettling, Cartel Land is essential viewing. – Adam Chitwood
The Big Short

Director: Adam McKay
Writers: Adam McKay and Charles Randolph
Cast: Christian Bale, Steve Carell, Ryan Gosling, Finn Wittrock, and Brad Pitt
Who knew the guy behind Anchorman and Step Brothers had this movie in him? Perhaps The Big Short is a better fit for filmmaker Adam McKay than one might think on first glance, as this visceral, hilarious, and heartbreaking film chronicling the events that led to the U.S. financial crisis of 2007-2008 is at once a sharp-witted critique of capitalism gone awry and a hilarious character study. McKay's passion for politics has always been clear, and he directs The Big Short with extreme confidence as we zip from character to character expelling financial jargon in a way that is made incredibly easy to understand. The film is both entertaining and infurating, hilarious and heartbreaking, and while it's a cast filled with impeccable actors, it's Steve Carell who steals the show with some of the best work of his career. – Adam Chitwood
Rogue One: A Star Wars Story

Directors: Gareth Edwards
Writers: Chris Weitz, Tony Gilroy
Cast: Felicity Jones, Diego Luna, Riz Ahmed, Ben Mendelsohn, Donnie Yen, Alan Tudyk, Wen Jiang, Forest Whitaker, Mads Mikkelsen
The first of Disney's planned anthology films, Rogue One: A Star Wars Storytravels back to a time between the original trilogy and the much-maligned prequel trilogy to tell a tale of rebellion. Nestled between the rise of the Empire as we know it and the improbable destruction of their space-based super-weapon is this contained story about a group of anti-heroes and their risky mission to obtain the Death Star blueprints. It's this key piece of information that allows the rebellion to not only kick off in earnest but to thrive for generations.
Rogue One is part heist film and part war movie, as if Ocean's Eleven and The Dirty Dozen came together in what's arguably the best space drama ever to unfold. Edwards' tale doesn't succeed fully in either regard, but it does offer up plenty of fan service for the Star Wars faithful who want to see connective tissue strung together between existing films. It introduces a handful of colorful characters, including some referenced outside of the cinematic universe, but ultimately only uses them for this solitary film since the rebellion's greatest victory also comes with their greatest sacrifices. – Dave Trumbore
Grease

A crowd-pleaser if there ever was one, Grease is the word for a reason. Forgive me for going all Stefon here, but Grease has everything: a sweeping romantic duo at its core, double entendres galore, and some of the catchiest musical numbers ever put to screen. John Travolta and Olivia Newton-John are dynamite together, but the entire ensemble is terrific under the direction of Randal Kleiser, who nails the 1950s vibe throughout. And what better time to watch Grease than now? Summer lovin' indeed. – Adam Chitwood
Beasts of No Nation

Director/Writer: Cary Joji Fukunaga
Cast: Abraham Attah, Idris Elba, Kurt Egyiawan, Jude Akuwudike, Emmanuel "King Kong" Nii, and Adom Quaye
Netflix's first major foray into original film territory was an ambitious awards play, as the streaming service acquired writer/director Cary Joji Fukunaga's passion project Beasts of No Nation after the film had been completed. The drama chronicles the journey of a young boy in an unnamed West African country who becomes a child soldier, and while the subject matter should tell you that this isn't necessarily a "cheery" watch, it's a tremendous and incredibly powerful piece of filmmaking. Young Abraham Attah is phenomenal as the young Agu, while Idris Elba delivers a terrifying performance as the charismatic leader Commandant. Fukunaga serves as his own cinematographer to hauntingly beautiful results, and the film culminates in a tough and thought-provoking conclusion. It's one of the best films of 2015 that went criminally underseen, but it's a terrific film that deserves to be experienced. – Adam Chitwood
The Last Unicorn

Directors: Jules Bass, Arthur Rankin, Jr.
Writer: Peter S. Beagle, based on his novel
Voice Cast: Alan Arkin, Jeff Bridges, Mia Farrow, Tammy Grimes, Robert Klein, Angela Lansbury, Christopher Lee
The Last Unicorn is a haunting fantasy tale that both children and adults should find appealing. It can be scary, sweet, heartwarming, and even satirical at times, as it follows a unicorn on a journey to find her lost brethren, who were supposedly driven out of existence by a red bull controlled by a mad king. The voice cast brings life to the movie's distinct animated style (created by a studio whose core members went on to form Studio Ghibli), and the score is wonderfully composed by the legend Jimmy Webb, with memorable songs performed by the folk band America. It's a strange and beautiful story of love, loss, and magic that has a truly unique sensibility. — Allison Keene
The Overnighters

Director: Jesse Moss
Writer: Jesse Moss
Jesse Moss' documentary The Overnighters is a current and searing look at not only the shortcomings of the American Dream and the current economy, but also a larger story about how difficult it is just to do good by your fellow man. Pastor Jay Reinke allows men to sleep in his church, but runs up against opposition from his community and the town government. It's also a touching look at how hard it is to do right by each other when we're such flawed creatures. It's a somber, melancholy picture that shows the difficulties of doing right by your fellow man, especially in present-day America. – Matt Goldberg
Gerald's Game
Director: Mike Flanagan
Writers: Mike Flanagan, Jeff Howard, Stephen King
Cast: Carla Gugino, Bruce Greenwood, Carl Struycken, Henry Thomas
Gerald's Game is the impossible adaptation, but Flanagan has proven himself one hell of an idea man with his string of horror hits, and finding a way to make Gerald's Game work is his most impressive feat yet. This is an excellent King adaptation. It's an excellent psychological horror that investigates hard topics without flinching and without exploiting. It's a soulful piece with its heart and its head firmly in the right place; a rejection of toxic masculinity, oppressive silence, and cycles of abuse. It's an embrace of female strength, outright, and it's as moving as it is consummately thrilling. – Haleigh Foutch
Jiro Dreams of Sushi

Director: David Gelb
Even if you don't like sushi, you'll be salivating over the documentary Jiro Dreams of Sushi, which not only lovingly photographs Jiro Ono's $500/plate delicacies, but also goes deep into his work ethic and passion. Gelb's exploration of one man's pursuit of total perfection, and the personal cost of that pursuit, is utterly captivating regardless of your food cravings. Gelb could have made a documentary about any person who is at the top of their field, but focusing on Jiro Ono opens up the door to not only a feast for the senses (you can almost taste the sashimi), but also a fascinating look at Japanese culture, especially with regards to Jiro's complicated relationship with his two sons. It's a filling documentary even if it leaves you physically hungry for such delicious-looking food. – Matt Goldberg
---
---
Happy viewing!
Want more movies and TV shows? Click HERE for more lists like this one.
Need help? Please, contact Seed4.Me Support team at support@seed4.me