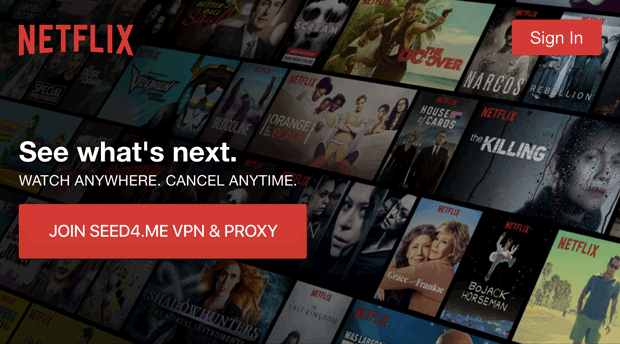 If you want to have great holidays, you already purchased Netflix subscription.
But what to do if you are going to celebrate abroad? Or you just want to access more movies and TV shows, which are only available on American Netflix?
Fear not, we got you covered! With Seed4.Me VPN you can can watch US Netflix abroad!
Though, let's focus on more painful question: WHAT TO WATCH?
The choosing part is the most time-consuming and it is also difficult to get one that fits your mood, or something you and your friend/spouse can agree on.
Let us help you here as well, we have prepared a list of great films currently available on US Netflix, so scroll down and pick one by one. Enjoy!
---
Mudbound
Directed by: Dee Rees
Written by: Virgil Williams and Dee Rees
Starring: Carey Mulligan, Mary J. Blige, Garrett Hedlund, Jason Mitchell, Rob Morgan, Jason Clarke, and Jonathan Banks
One of the best films of 2017, Dee Rees' southern epic is a sprawling, rapturous piece that looks at the lives of two families, one black and one white, in the 1940s. Although a lesser film would have only looked at one of these families or only one perspective, Mudbound brilliantly examines the hardscrabble life of a white family who owns the land, the black family who must work the land, and the conflicts and kinships that arise from its various members. Aside from the masterful craftsmanship and outstanding performances, Mudbound is a brilliant meditation on race and power that transcends its time and place. While the rural Mississippi setting gives the film its flavor, the inequality and power dynamic feels painfully relevant without ever coming off as preachy or obvious. It's an absolutely masterpiece, and while it may not be a Netflix film that's perfect for relaxing, it's one you'll be grateful you experienced. – Matt Goldberg
Tim Burton's The Nightmare Before Christmas

Directed by: Henry Selick
Written by: Caroline Thompson
Cast: Danny Elfman, Chris Sarandon, Catherine O'Hara, William Hickey, Glenn Shadix, Paul Reubens, Ken Page, and Ed Ivory
It's not fall/winter without Tim Burton's The Nightmare Before Christmas. The perfect movie to transition from that Halloween spirit into the hustle and bustle of the Christmas season, director Henry Selick's macabre and lovely 1993 stop-motion animated film still stands as a classic today. What stands out about Nightmare Before Christmas is that it doesn't have any major stunt casting—composer Danny Elfman voices the main character! Each voice actor is perfect for his or her role, and it brings a richness and texture to the entire affair. It's a joy from start to finish. – Adam Chitwood
Talladega Nights: The Ballad of Ricky Bobby

Director: Adam McKay
Writers: Adam McKay and Will Ferrell
Cast: Will Ferrell, John C. Reilly, Sacha Baron Cohen, Amy Adams, Gary Cole, Leslie Bibb, Jane Lynch, and Michael Clarke Duncan
It's tickling to no end that a Best Original Screenplay Oscar winner is the same mastermind behind such silliness as Anchorman and Step Brothers. But writer/director Adam McKay's masterful hold over tone and subject matter in The Big Short is simply an extension of something he'd been doing for years, with Talladega Nights: The Ballad of Ricky Bobby acting as one of the biggest dupings of general audiences in recent memory. On the surface, it's a silly comedy starring Will Ferrell as a goofy race car driver. But at its heart, Talladega Nights is a searing takedown of corporate culture and "Southern pride." It's darn effective, with hilarious supporting turns by John C. Reilly and Molly Shannon upping the goof factor exponentially and the late Michael Clarke Duncan showing a side of himself audiences had never seen before. This is Adam McKay doing what he does best, only on a broader canvas and with considerably more Mountain Dew. – Adam Chitwood
Zodiac

Director: David Fincher
Writer: James Vanderbilt
Cast: Jake Gyllenhaal, Mark Ruffalo, Chloe Sevigny, Robert Downey Jr., Anthony Edwards, Brian Cox, and John Carroll Lynch
In the mood for an impeccably crafted drama from a master filmmaker? Look no further than Zodiac, David Fincher's 2007 chronicle of the hunt for the Zodiac Killer in 1960s and 70s San Francisco. Jake Gyllenhaal anchors a phenomenal ensemble as a cartoonist at the San Francisco Chronicle who grows obsessed with figuring out the identity of the serial killer, to the detriment of pretty much everything else in his life. Buoyed by terrific performances from the likes of Mark Ruffalo, Robert Downey Jr., and Anthony Edwards as well as Fincher's knack for details, the film is an absorbing, darkly funny, and at times terrifying watch that stands as one of Fincher's best. – Adam Chitwood
Justin Timberlake + the Tennessee Kids

Director: Jonathan Demme
One might think a concert documentary on Netflix couldn't be that exciting, and one would be wrong. Justin Timberlake + the Tennessee Kids is an absolute blast from start to finish, as filmmaker Jonathan Demme captures the final two performances of Justin Timberlake's 20/20 Experience tour. It's abundantly clear that Timberlake is a consummate entertainer—Demme's camera marvels at the performer's showmanship, and the effect is downright alluring. He also takes time to really showcase the musicians and dancers performing alongside Timberlake, which brings an air of family to the proceedings. Really it's just an all-around great time. Throw it on during a party or small get-together, or just sit down watch Timberlake do his thing. – Adam Chitwood
The Meyerowitz Stories (New and Selected)

The Meyerowitz Stories (New and Selected) isn't Noah Baumbach's first story about a dysfunctional family, but it's his best one yet. The story follows the Meyerowitz family, specifically sons Danny (Adam Sandler) and Matthew (Ben Stiller) and their strained relationship with their egotistical father Harold (Dustin Hoffman), a retired art professor whose work as a sculptor never brought him the acclaim or recognition he felt he deserved.
The film is at turns deeply funny and incredibly heartbreaking as we see how Harold has emotionally damaged his sons in different ways. With Danny, he's always harping on how great Matthew is while never acknowledging how much Danny does as a son and as a father, and with Matthew, he's always distracted or demanding credit for making more of a commitment than he did with Danny. It's insightful, smart, and features outstanding performances from the entire cast, especially Sandler and Stiller, who turn in some of their best work while never leaving behind their comic gifts. Credit is also due to Hoffman who, at 80 years old, is still delivering magnificent performances that make you laugh and seethe in equal measure. – Matt Goldberg
13th

Director: Ava DuVernay
Writers: Spencer Averick and Ava DuVernay
Ava DuVernay follows up her acclaimed film Selma with a searing documentary that looks at the mass incarceration of minorities following the passage of the 13th amendment. As the documentary points out, it's not just ingrained cultural racism that results in the widespread incarceration of African-Americans and other minorities. There's a financial incentive as well, and it's good business to lock people up.  13th systematically goes through the decades following the passage of the 13th amendment to show how black people were targeted by the media, by the government, and by businesses to create a new form of slavery. It is a movie that will infuriate you, depress you, and hopefully spur you to action against a system that done egregious harm to our fellow citizens. – Matt Goldberg
The Prestige

Director: Christopher Nolan
Writers: Jonathan Nolan and Christopher Nolan
Cast: Hugh Jackman, Christian Bale, Scarlett Johansson, Rebecca Hall, Andy Serkis, and David Bowie
The Prestige is the most essential film to unlocking Christopher Nolan the filmmaker. It speaks to his overall philosophy when it comes to storytelling, and its themes are prevalent in nearly every single one of his films. It's also one of his best movies to date. Set in London at the end of the 19th century, Hugh Jackman and Christian Bale are dueling magicians with very different approaches to their craft. When Bale's character unveils a seemingly impossible trick, Jackman's character is driven mad trying to figure out how it works. It's a story of obsession, devotion, and priorities, and the film's non-linear structure makes for a wildly compelling watch. – Adam Chitwood
Y Tu Mamá También

Director: Alfonso Cuarón
Writers: Alfonso Cuarón and Carlos Cuarón
Cast: Maribel Verdú, Gael García Bernal, and Diego Luna
Before he made Harry Potter and the Prisoner of Azkaban or Children of Men or Gravity, filmmaker Alfonso Cuarón directed the erotic masterpiece Y Tu Mamá También. The Spanish-language coming-of-age drama follows two teenage best friends who go on a road trip with a woman in her late twenties, only to discover much more about each other and themselves. It seems like a trite premise, but the film is lovingly crafted and gorgeously shot by Oscar-winning cinematographer Emmanuel Lubezki. Cuarón captures teenage ennui brilliantly, and while this is a "coming-of-age" story, the focus isn't entirely on the young boys—Maribel Verdú's chararacter is fully realized as Cuarón explores the anxieties and fears of adulthood, all set against the backdrop of a sunny, sex-filled roadtrip. This is undoubtedly one of the best films of the 21st century so far. – Adam Chitwood
Kubo and the Two Strings

Director: Travis Knight
Writers: Marc Haimes and Chris Butler
Cast: Art Parkinson, Charlize Theron, Ralph Fiennes, Rooney Mara, George Takei, and Matthew McConaughey
The folks at LAIKA Studios have been crafting gorgeous and wholly unique stop-motion animated films for years, but Kubo and the Two Strings might be their most visually stunning yet. The film is a fable of sorts revolving around a young boy named Kubo who must set out on a quest with Monkey (Charlize Theron) and Beetle (Matthew McConaughey) to defeat his mother's corrupted sisters and his power-hungry grandfather. The film at heart is a story about loss and legacy, and the LAIKA team does a tremendous job of keeping the story emotionally grounded as the visuals astound. This is an animated film that doesn't talk down to its audience, and doesn't rest on easy fart jokes or sight gags to keep kids' attention. It's all about story, and it's wildly compelling. – Adam Chitwood
The Overnight

Director/Writer: Patrick Brice
Cast: Adam Scott, Taylor Schilling, Jason Schwartzman, and Judith Godrèche
If you're in the mood for a raunchy comedy that really goes there, then The Overnight might be right up your alley. The film stars Adam Scott and Orange Is the New Black star Taylor Schilling as a somewhat conservative couple who, while at the park with their son, meet a nice and somewhat mysterious parent named Kurt (Jason Schwartzman), who invites them and their son over to his family's house for a playdate. All is going somewhat normal until the kids are put to bed, at which point Kurt and his wife Charlotte (Judith Godrèche) pull Scott and Schilling's characters out of their shells, taking them to sexually adventurous places with plenty of humor to boot. For anyone who's been itching to see Scott and Schwartzman don some hilariously exaggerated prosthetic genitals, The Overnightis for you. – Adam Chitwood
Frank

Director: Lenny Abrahamson
Writers: Jon Ronson and Peter Straughan
Cast: Michael Fassbender, Domhnall Gleeson, Maggie Gyllenhaal, and Scoot McNairy
Filmmaker Lenny Abrahamson is now an Oscar-nominated director for his work on Room, but his previous film, Frank, proves the director's range as he stretches into truly strange territory. Based on true events, the film follows a young aspiring musician played by Domhnall Gleeson who joins an eccentric pop band fronted by the mysterious Frank, a character played by Michael Fassbender who wears a giant mask over his head for almost the entire film. It's a truly spectacular performance from Fassbender, who must use only his voice and body to convey the character's complex emotions, and Gleeson is terrific as a naïve musician who, at heart, is just not very talented. This is an incredibly weird movie about art, music, and trauma, but it's also delightful and wickedly funny. So for something off the beaten path, check out Frank. – Adam Chitwood
---
---
Happy viewing!
Want more movies and TV shows? Click HERE for more lists like this one.
Need help? Please, contact Seed4.Me Support team at support@seed4.me